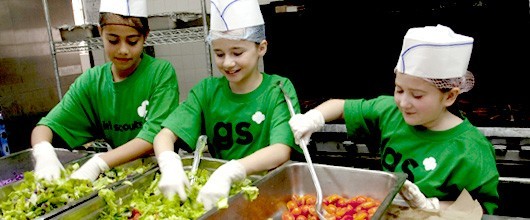 Bronze Award
Guidelines  |  Steps  |  FAQ
Welcome to the Girl Scout Bronze Award, the highest honor a Girl Scout Junior can achieve. As you and your team plan and complete your project, you'll meet new people and have the kind of fun that happens when you work with other Girl Scouts to make a difference. Download the Bronze Award guidelines to find out how.
You can pursue your Girl Scout Bronze Award if:
You're in fourth or fifth grade (or equivalent)
You're a registered Girl Scout Junior
You have completed a Junior Journey


Build your Girl Scout Junior team
 


Choose your Bronze Award project
 



Q: Am I required to submit my completed project to Council?
A: Yes! Although everything for the Girl Scout Bronze Award is done at the troop level, please follow this link to record your troop's completion of their project. You will need this form to purchase the award pin at our council shop locations.
Q: Are we allowed to raise money for project materials?
A: Yes, but remember to get approval from your SU Manager and/or Service Unit and Troop Support Specialist before participating in any money earning activities. Also remember that your troop must sell cookies in the fall before partaking in any additional money earning activities throughout the year.
Q: Who should be on my Girl Scout Bronze Award "team"?
A: You and other Girl Scout Juniors who are on this adventure together, plus your troop/group volunteer. If there are no other Girl Scout Juniors in your neighborhood, seek out some friends your age—they can even join Girl Scouts and earn the award with you! More girls equal more friends, more ideas, and more ways to make a difference!
Q: Where should I look to get ideas for my Award project?
A: Start by exploring your community: your block, your neighborhood, or your school. As you walk or bike around town, keep your eyes open for ways you can make a positive change. As you take a bus to school or ride in the car with your parents, look for problems that should be fixed.