Event List
Explore fun events for girls, teens, and the whole family.
Girl Scout offers some of the best events, experiences, and adventures for girls in grades K-12. Girl Scouts always have a blast when they're together—both in person and virtually. It's easy to find inspiring events for all ages, and there's no need to already be part of a troop to start exploring. Check the program and activities listed below. Whether the goal is to gain new skills, make new friends, or simply try something new, you're in the right place!
It's time to Press Play and the new 2022-2023 Programs
and Events Guide gives you plenty of opportunities to do just that!
Click here to view the book and plan your Girl Scout year!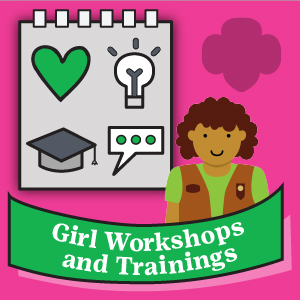 Date: Mon Jun 12, 6:00 PM - 7:30 PM EST
Do you need help writing your Gold Award proposal? Do you need to narrow your broad idea into a feasible project? Do you want to brainstorm possible community partners or a project advisor? Come join Highest Awards Staff to discuss all things Highest Awards.
Pre-requisite- Gold: Must have completed the Gold Award Workshop and completed steps 1&2 in GoGold
Silver: Must have completed the Silver Award Workshop, Silver Award Pre-approval Screening, and page 3 in the Silver Award Guidelines
Questions: Email membercare@gscm.org