Event List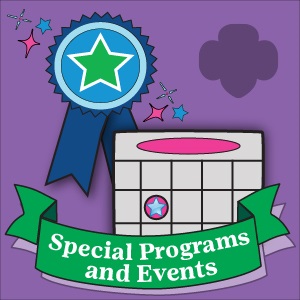 Date: Sat Oct 23, 11:00 AM - 4:00 PM EDT
Join us for a day of fun celebrating the birthday of the founder of Girl Scouts, Juliette Gordon Low. This old-fashioned fall party will be full of classic games and fun for all ages including archery, Pop-A-Pumpkin, Relay Races, SWAPS and STEM Challenges. We'll make a tasty treat with Girl Scout Cookies and cap off the day with Trunk 'r Treat! Prizes will be awarded for the trunks that are: 1) the scariest, 2) the funniest and 3) the best depiction of Girl Scouts. There will also be one prize awarded to the trunk that offers the best Halloween Treat!
But that's not all! We will also host our inaugural Pumpkin Derby! Racers may enter the youth (K-5), teen (6-12) or adult division. Official Pumpkin Derby Rules will be provided upon registration; but the basics require that racers craft a "car" using a single, whole pumpkin. The "car" must be built using a minimum of two (2) independent axles (no wider than 18") inserted through the pumpkin. "Car" weight may not exceed 20 pounds.
Need help making your Pumpkin Racer? Check-out our Pumpkin Racer Workshop! You bring the pumpkin; we'll help with the rest!