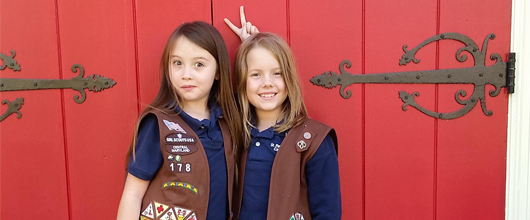 Financial Assistance for Membership
It would be great if every girl in grades K-12 could become a Girl Scout. Sometimes it is difficult for the family to bear the entire cost of membership for everyone in the family that would like to participate. To help those families, financial Aid is available for girls and adults who need assistance with the cost of registering as a member of Girl Scouts. The option to request financial assistance is available for new and renewing members.
New members begin the registration process here. During the process, new members are given the option of requesting various amounts of help needed with the membership cost for each girl and adult in the family wishing to participate with a troop.
Renewing members should log into their MY GS account to begin the renewal process. Members are given the option to request various amounts of financial aid in this process as well. 
Please contact membercare@gscm.org with any questions.
Financial Assistance for Activities
The Financial Assistance Program enables girls and adults to participate in Girl Scout activities they could not otherwise afford. Any registered girl or adult involved in the Girl Scout Movement is eligible to apply for a grant or loan or a combination grant/loan.
When requesting financial assistance, sound financial planning and need must be demonstrated. The decision to allocate funds is made by a volunteer Financial Assistance Committee on the basis of information provided in the application. The committee meets once a month to review applications. Requests for financial assistance are confidential.